Do you know a business that exemplifies the Best of Gurnee?

Best of Gurnee - Fall 2020
What is it?

Best of Gurnee started in 2016 as a business recognition campaign that awards and recognizes businesses, large and small, national and local, for exemplary contributions to building and bettering our wonderful community! Businesses may be nominated in two categories - Paying It Forward and Bringing Me Home - described in the nomination form below.

When is it?
This nomination form may be submitted at any time throughout the year, and the mayor will recognize nominees at year-end for their efforts via the Village's communication channels (social media, website, newsletter).

How do I nominate?
(1) Complete the fillable form below. Save the file and email to Ellen Dean, Economic Development Director. Feel free to attach photos or other supporting documentation to your email. To be eligible for fall awards, please submit form by December 5, 2020!
OR
(2) Print this form and return it via fax or post to: Ellen Dean, Economic Development Director. Fax: (847) 623-9475 USPS: Village of Gurnee, 325 N. O'Plaine Rd., Gurnee, IL 60031

OR
(3) Send a letter (and supporting documentation) to the addresses above.

Who can nominate?

Anyone – individuals, businesses, or organizations – may submit nominations, and there is no limit. Self-nominations by businesses are welcomed; tell us your story!
---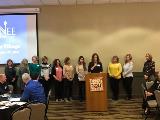 2019 Pay It Forward Award: Honey Orthodontics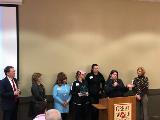 2019 Bringing Me Home Award: Mission BBQ